Robyn and I are now back in L.A., returned from our beautiful and very special honeymoon in Korea, which also included the chance to see seven of my one-act plays being produced in Korean translations in a production at the Incheon Arts Platform.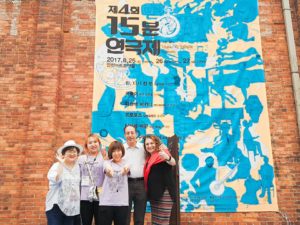 Besides the time with our new theater friends in Incheon, we criss-crossed the country by high-speed rail and express bus to see the spectacular natural sites in Seoraksan National Park, saw ancient burial mounds, temples, and shrines in Gyeongju, and visited the mountain-top Seokguram Grotto where monks were leading a service in front of a centuries-old statue of the Buddha.
We also had a too-brief overnight stay in Seoul, where we saw the Secret Garden at Changdeokgung Palace, visited artisanal workshops in the Bukchon Hanok Village, strolled along the stream-side Cheong-gye-cheon promenade, and, much to Robyn's enjoyment and my mild chagrin, visited a cat café with actual cats on Insa-dong Street.
We can't say enough to thank extraordinarily tireless and resourceful theater producer Gunyoung Kuon, who extended the invitation for us to come and was so gracious and friendly to us throughout. Special thanks also to our patient translators Jina and Edi, and to all the directors, actors, and stage crew who came together over three days at the Incheon Arts Platform to create some truly magical theater – as a writer, these are the kind of imaginative, creative, and skilled performances you always want your work to receive, in any language.